Part 1 | Part 3 | Part 4
RPGs
One thing I made a conscious effort to do this year was to run even more campaign games instead of "just" running one-shot campaigns. To that end, I did the following
I started running Curse of Strahd. I spoke to ActionMan about my playing in the I6 Ravenloft in the 80s, a story I related on this blog. As luck would have it, there were other guys who wanted to play and within like 10 minutes of me putting up the LFM (Looking For More) I had to refuse people. Nevertheless, I assembled a Crue to travel with ActionMan to Barovia... And they regretted it all the way into the Mists... We've been playing for well over six month almost weekly and the final confrontation is fast approaching.
I started an Akhamet Campaign on Wednesday nights which gives me a reason to get my adventure writing in gear and prepare something for the guys. This campaign is episodic - so much like an organized play campaign. We've been playing about 2-2h30 hours a week and I've had a good time of it. I spent a fair chunk of the Christmas break writing the next part in an upcoming adventure for Akhamet...
I joined a campaign of Mutants and Mastermind where I play the Alabama Slamma, the south's number one superhero. He is a sort of redneck paragon, a flying hillbilly version of the Thing. This is a character that is 90% humor because he embodies everything that is redneck. One element of the campaign I grew to simply hate are the PvP hero vs villain crossover (there are two groups). Our team (the heroes) are not on the same level as the villains, which results in us getting our butts handed to us every time. I will no longer participate in them after this last "Christmas" one. I have other things that to make a few jokes then get obliterated as the villains take an hour to do their round (they are well-built...) So that on our second turn, half of us are still up and the rest are barely standing. Perhaps if there is some reason to participate. But right now I don' t see the point.
Our local Murfreesboro D&D group has been growing and quite a few games spawned. Fun stuff really. We used to play some Adventure League but that has dropped off as the GM started his own game... Good result for all. As it grows, I expect we will have more and more events.
One of the things I got into this year was Mentoring new D&D players, GMs, and writers. I did a number of such collabs, helping people from around the world with their issues. I worked with Simon, Matt, Vince, and Andrew to name but a few. Working with each person is a different experience. I learned a lot myself by sharing some of my experience.
For me, the biggest release of the year in the RPG world has been the release of Wrath and Glory a RPG for the Warhammer 40k universe that finally does what we want to do with it. Then what happens? The game loses the license and it goes to Cubicle 7 (a company I am not very keen on)! Damn it! I'm not shelling another 40$ on the game. Looking at it from a publisher's perspective, that game is well-designed and sets itself to future supplements to expand on a solid base. You can play Chaos, Imperials, Eldars, or even Orks! Have not yet played much but plan to do something in 2020 with it.
RPGs/ActionMan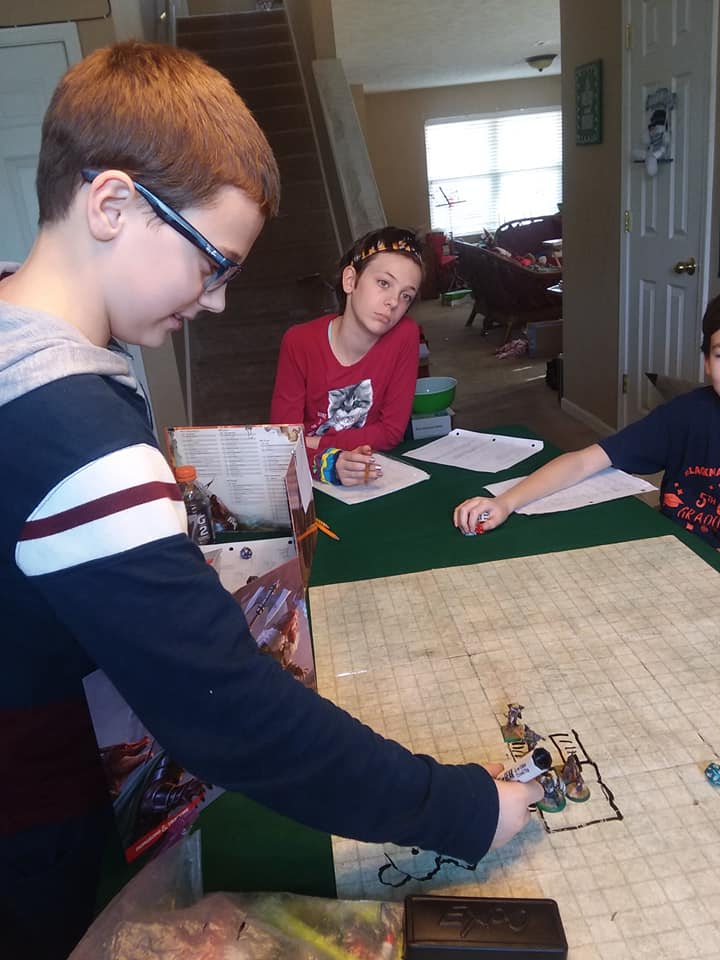 Right at the end of the year, ActionMan ran his first D&D game. It was a fun adventure where us band of misfits went to get money for the town to pay its taxes. We explored a dungeon in Wing Mountain. A fun rump for sure. Watch out people, ActionMan will be a good GM in the future. There were a few things he needs to work on, but the game flowed well, the story help up, and we had good fun. #ProudDad
I gave him the DMG to go over and he created the whole adventure by himself: a multi-room dungeon with different combats (we fought swarms, undead, and zombies). A well-crafted first effort - much better than my own first effort! There were potential ties to other campaigns (namely both Akhamet and Rhym).
I am really looking forward to seeing what he will come up with next. Perhaps giving him a few adventure league adventures so he can see more of the structure of an adventure in something that has a rather fixed format. I will talk to him about it, see what he thinks.
#ProudDad indeed.
RPGs/Organized Play
This year, I did LOT less organized play than in previous years.
The game I played the most was Arcanis. I got to play a bunch during Origins and had a great time. However, next year, I do not expect to play much more because they are pulling out of Origins.
I joined a campaign of the hardback Mad Mage's Labyrinth... And while I enjoyed the game (group + GMs), I hated that adventure. There is no plot, no story, just an endless series of random rooms with combats or traps. Truth be told, that style of adventure is why I quit D&D back in the 90s. I leveled up a few characters, but it really did nothing for me. I don't feel more excited by the game. I will not purchase that book, run it, nor play in it.
The other campaign I played in a lot has been Heroes of Rokugan who are using AEG's Legend of the Five Rings 4th Edition. I am enjoying the campaign quite a lot as my origami-making Crane shugenja tries to perform her duty with all her disadvantages. This campaign is hit-or-miss in its adventures but the overall storyline is interesting.
Conventions
This year, I participated in a number of conventions, here is the report I posted about them.
After last year, I decided to attend less, focus on things at home. I have to say... I miss it. I really enjoy attending cons with ActionMan.
- MidSouthCon in Memphis, TN
- Conglomeration in Louisville, KY
- Origins in Columbus, OH: Part 1 | Part 2 | Part 3
- Hypericon in Murfreesboro, TN: Part 1 | Part 2
- Gencon in Indianapolis, IN: Part 1 | Part 2 | Part 3 | Part 4 | Part 5
- Labor Day Mini-con in Louisville, KY