Part 1
Good
Despite my initial worries, there were a lot of great things, many of which turned out to be awesome.
- The Location is awesome for me. I loved playing and being home 15 minutes later. For those who do not live in the 'Boro, the hotel is just off I-24.
- On-Site location, the gaming area was on an overlook that was literally at the center of the con, which no doubt helped traffic. Good thing.
- Access to food is great, you can walk to many places in less than 10 minutes. True, many of these places are junk food, but still. Close availability of food is a great thing.
- The participants were very interested in playing and taking part in what was happening. It was great to see people want to participate return to the game table over and over.
- I was really worried about it, but nearly all the table happened with many times we had two tables with 5-6 players every time. I did not expect that and was one of the best part of the con. It's always good to see games happening and the gaming area of a con growing.
Improvable
A few things could be improved:
- No ramp to the overlook. We had a great location, but it was not very accessible as there were stairs but no ramp.
- There was a con suite which was cool. However, it seemed to me that it was closed most of the time. Improvable.
- My Badge did not survive through Sunday. By then, it was two leaf of plastic and a paper on my lanyard. Minor, but annoying.
Next Time
For next time:
- I plan to update the Akhamet Iconics to be single-classed characters. Tetsora will be a rogue and Osaphis a fighter. This will make it easier for people to hop in.
- I have to plan more panels/workshops. There seems to be a thirst for gaming-oriented content.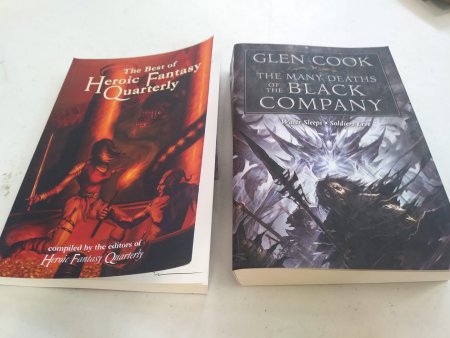 Final Thoughts
Okay, so there should be no surprised that I was greatly impressed and I loved my time at Hypericon. I will definitely be back next year, make this con better. It is, after all, the one that is my Home Con and I want it to become even bigger and better.
I got to meet and chat with a lot of great people. Some friends I hadn't seen in forever: Buddy-B, Kveld-B, and Jacob. I met a lot of new cool people and talked a lot about Akhamet, 5e, and gaming in general.
Yiiiiiiiiiiiiii! I met Glenn Cook! Yiiiiiiiiiiiiii!