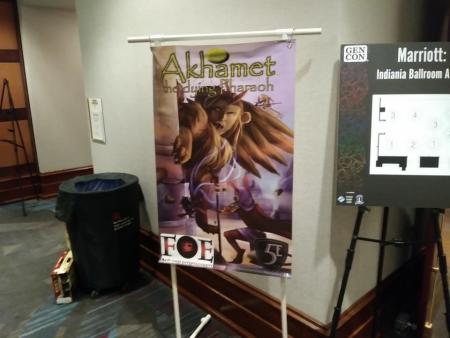 It is Gencon-planning season again!
Yes, I know, Gencon is at the beginning of August but now is the time for me to set up what we will be doing. Before I go and request tables and room, I would like to know how many of you would be willing to GM for FOE this year.
Over the past two years, I have been BEYOND lucky to surround myself with a wonderful team. (Isabelle, JS, Will, Randy, Flo & Flo). And I plan to once more organize events at Gencon and make it FOE's biggest ever. Like last year, I plan to have a multi-table event, one that would span both days. I am dreaming BIG! But also some single-table events.
This year's games will be mostly in Akhamet but may have one set in Rhym.
The GMs will be involved in the creation - by providing ideas and critique (and writing if you want to).
What do you get?
FOE products, carpooling (if you need it), and some extra goodies (previous GMs received sets of hand-painted miniatures and iconics). But most of all... A free Gencon Badge!

Interested? Available? Ask JP by any means: email (JP@FOELegacies.com), facebook chat, etc.