Saturday
Saturday came much like Friday. With a pinch of sadness, I realized Gencon was more than half over... But onwards!
For the morning, I ran Dead and Buried again. Once again, I chuckled as they sought the answer to the problem posed before them. Fun GMing times once again.
GMs for Morning: Bill (Best Served Cold), Marissa (Marauding Titan), JP (Dead and Buried), Matt (Hexcrawling the Cyclopeans)
My afternoon was free. I hit the dealer hall once again. This time, I roamed about randomly. That's when I got to meet Wes-R at the Chessex booth, an old friend from Denver. We did some catching up. It was great seeing him again as I hadn't seen him in about a decade! I really hope to see him again next year!
After that, I returned to the FOE room, making a quick stop by the Baldman Games room where I spoke with my old buddy Konrad-B, also from LG days. Great catching up with him.
GMs for Afternoon: Bill (Best Served Cold), Will (Marauding Titan), Jason (Dead and Buried), Matt (Hexcrawling the Cyclopeans)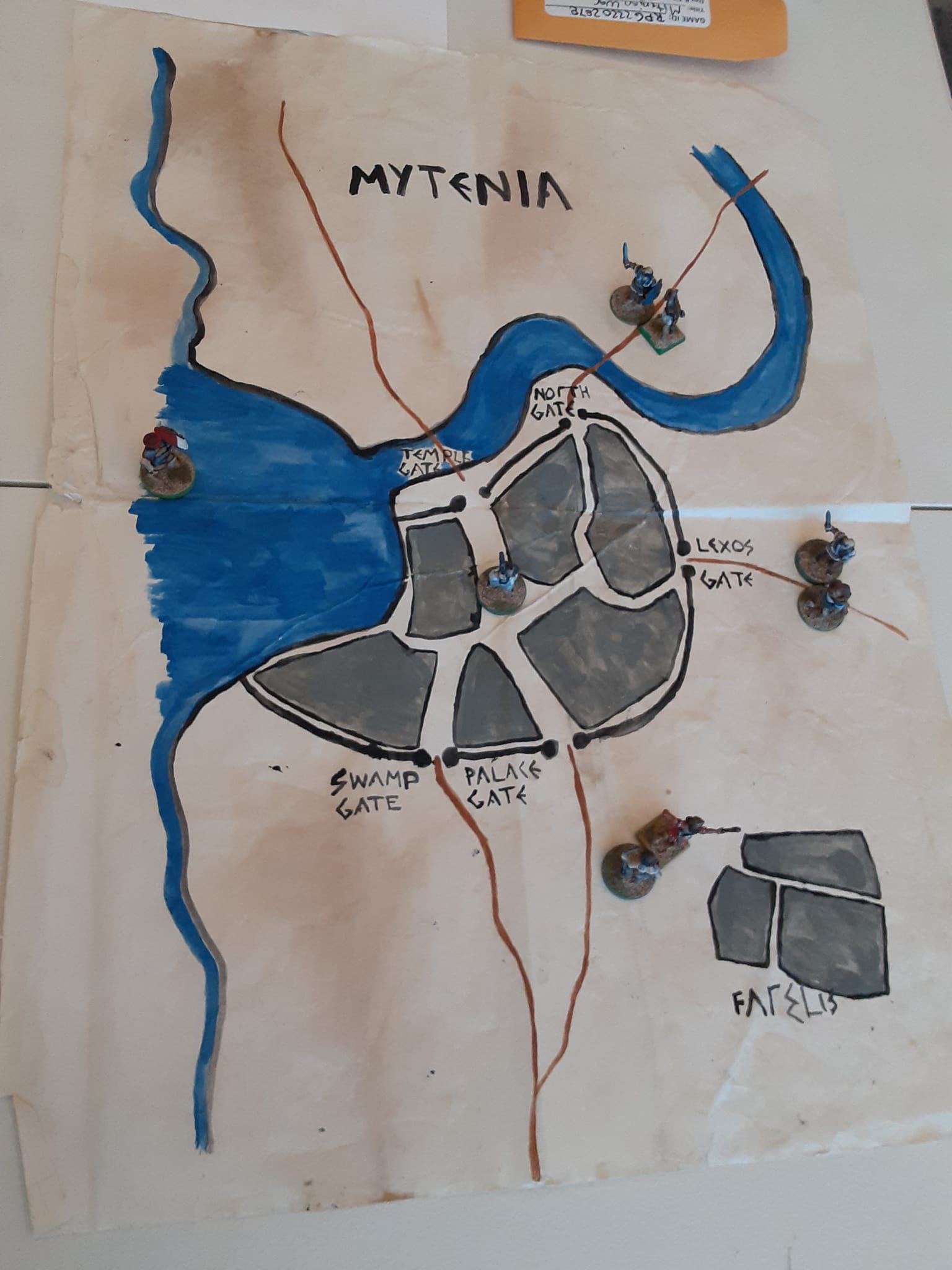 The evening was again another special. This time, Mytenian War. Following the evening and the shocking finale of the events of the previous night... Things had to get sorted out. With the army of Lexos with their Spartian allies at the gate, how would the PCs succeed in getting the situation resolved.
This adventure drew on many of the active threads of the weekend. A mix of action, diplomacy, and surprise made this adventure quite memorable. But the highlight were really the GMs who made everything come to life.
GMs for Mytenian War: Adam, Jason, JP (Overlord), Logan, Will
Short drive. Pass out.
Sunday
We got up early, packed and loaded everything up. That left us almost two hours before kick-off... So why not get the Denny's meal we planned on taking last Wednesday? I will say... it was AWESOME. It was everything I wanted it to be. Really hit the spot before going to the game. Definitely better than McDonald's.
Only one event today: the capstone of everything. An adventure that both closed the mini-campaign AND prepared it for next year. We had 21 ticket sold but only a fraction of that number came. Instead of 4 tables, we folded one and had Adam played at Matt's table. And so... we began to close our story for the year...
Once again, it went great! A lot of interesting development. I will keep the outcomes for a later post...
GMs for Reforging The Seal: Adam (released to play), Bill, JP (Overlord), Matt, Will