It has been too long since I published a FOE book. It has been even longer since I published a book about the First Ones. When I first published Service is Eternal, I focused on getting all my content and ideas together as they flooded into my mind. After a few years, I went back to it and... well I didn't think it was as great anymore. Concepts evolved some, clarifed, and formed into slightly different things.
One major concept that really form and got a good, definable name is the Burning. The ever-devouring ambition that links all First Ones together. It is neither a hive mind nor a deity, but something that has elements of both. It unites the First Ones without making them a monolothic presence.
Well if you don't know the First Ones, they appear in some form or another in every FOE setting, from Tyrants of Saggakar to Akhamet. They are used differently in every setting, in some, they are more directly involved than others.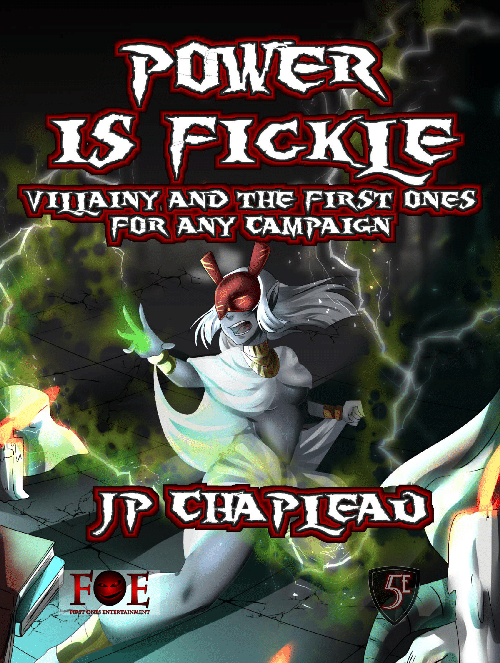 Today, I am publishing the new and revamped guide to the First Ones, called Power is Fickle Villainy and the First Ones. It is mostly a book about the First Ones, how to create and use them, but it was expanded to include playing and running villains with style and a reason. Therefore, Power is Fickle is not a ToS product, but a FOE product.
For those who prefer a hardcopy, it is also available on Amazon.
The art in SiE wasn't up to par and frankly looked terrible. This new book has a LOT of new art. Most of it commissioned just for it and drawn by FOE regulars The British Shark, Niall Arts, John F Ridley (inspector97), Blehc, Irene Campos, and many others.
But you want to know what the book contains:
We are the First Ones.
Lordship is our burden.
Obedience is our birthright.
Power is fickle.
Service is Eternal.

A guide to adding the First Ones to your Campaign. This book presents who they are, what they do, and how to add their threat to your campaign. They are more than just a new faction. They are a threat to the multiverse that grows from within and without.
- Details on how to include the First One in your campaign
- Details on howto run an evil campaign
- Details to help you create a campaign for evil characters
- 8 playable First One races
- 4 playable Minions races
- New class options and expanded rules
- Over 50 new feats, backgrounds, and spells
- Over 15 magic items and artifacts
- 18 sample characters to help you link the First Ones to your campaign
- Over 30 new monsters
The Burning reaches across the Multiverse. All for 5th Edition.