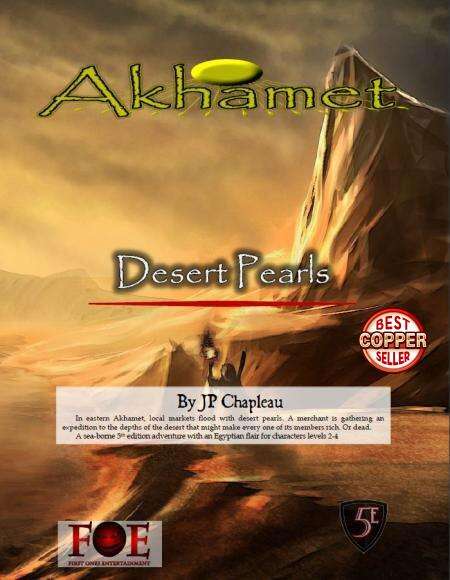 It is with great joy that I announce that the Akhamet adventure Desert Pearls has reached the first best-seller level, Copper!
For those who remember back in 2019, Desert Pearls premiered officially at Gencon where it marked a few people. It is an action-oriented adventure that really showcase some of the unique elements of Akhamet and the complex relation between its many clergies. It introduced an NPC many people still hate to this day, the gebite Siwa (which reminds me... I must bring him back next year!)
I loved running that adventure, the few times I did it. I even used it to start my ongoing Akhamet campaign (which has been running for 3 years). The name "Wild Card Billy" (Shout-out Billy!) is still mentioned around the table...
You can get Desert Pearls today on DriveThruRPG. If you want to get it 50% off, get the Akhamet Bundle.
From the bottom of my heart, THANK YOU for your support of FOE. It is always appreciated and motivating to continue.