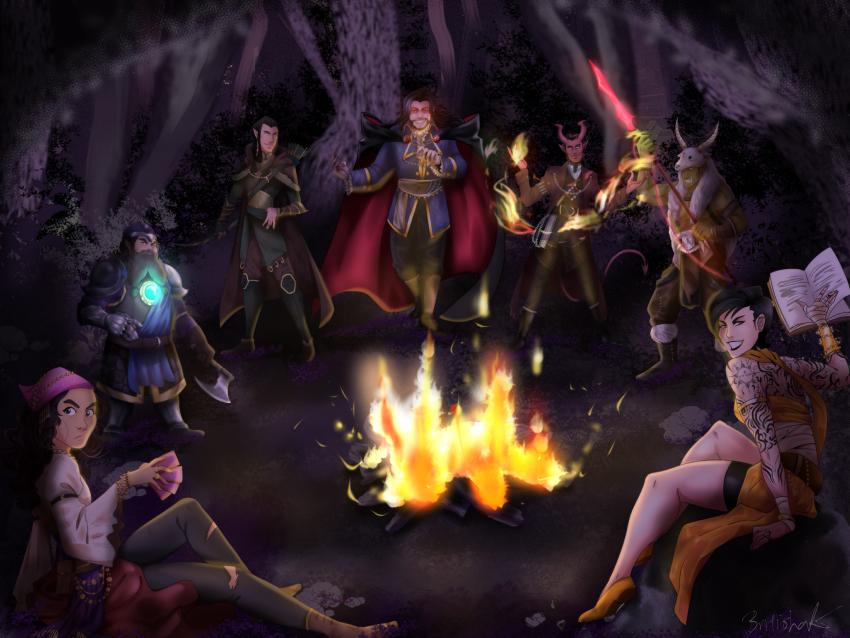 Part 1
Continuing my look back at my Curse Of Strahd 2019-20 Campaign. From the art on the top, you can see Strahd let himself go a little... That's me as Strahd... With hair! WOO!
Handouts
During the game, I created a few products to help me run the game.
- Crypts of Ravenloft is a series of handouts for the crypts so the players have something
- Dark Gifts of Ravenloft for the Amber Temple.
Expansions
I added the following sub-adventure/plots to enhance parts I felt were weak or where I had an idea that I thought was better than the material in there.
- Apple of Mother's Eye expands and re-imagines the town of Berez.
- Real Housewives of Ravenloft enhanced the Dinner at Ravenloft into a drama-filled plot.
- The Song of Aracos adds yet another tragic dimension to the tale. This one is likely to end poorly for the PCs. Very sad
- Interactive Tome of Strahd is a way for the PCs to live through the events rather than having a read of a page long story. I think this makes the story much more personal and gives added insight into what happened.
Notable RIPs
Many fell during this campaign, not all of them to rise again...
- Bando, "Maybe it wasn't such a good plan"
- Billy Bonescrusher, who almost became king of Barovia
- Donavich, who turned insane then turned to evil
- Ireena, disintegrated by a rival lover
- Patrina, She came back to life for a short time
- Ragdol, who almost TPK'd the party with a fireball
- Rahadin, ruthlessly faithful to the last
Thank You
There are so many people I need to thank for allowing this whole thing to come together.
A big thank you to Marvin-H who hosted EVERY session from the start.
Thank you to Steve-L who put together the Murfreesboro D&D group which led me to get off my rear end and run CoS "just to get people leveled up to continue the Adventure League stuff".
Thanks to the British Shark for making such awesome drawings of the team and the NPCs to enhance the game.
A special thanks to Sarah-R who played under-powered NPC character through the whole thing and made these NPCs come to life.
A thirty years-later thank you to Louis-G who ran me through Ravenloft when I was 12 or 13. Because of him, I learned to appreciate the material and kept good memories (okay, they were horrible memories, see First Love: Ravenloft and [WTF Gaming Moment] Balance Sucks). Thanks man, wherever you are.
Thank you to the Curse Of Strahd sub-reddit for giving me perspective and the shared knowledge of other GMs. There is a lot of good material there.
Congratulations
Finally, a big thank you and congratulations to the players who I really beat on and did dozens upon dozens of dirty tricks. I did not pull punches (at the end) and you guys got the job done, especially when I fully expected to TPK you all - which I came real close to doing.
You guys pulled it off!
- ActionMan who played Billy Bonescrusher, then Kasimir
- Billy-C who played Theron the albino dusk elf "I'm not albino!"
- Corey-C who played Beorn
- Dylan-B who played Ragdol, then Ismark
- Sarah-R who played Ireena, Arabelle, and Esmeralda
- Marvin-H who played Hapla
What now?
I don't know. I have a follow-up event I'd like to run but that will NOT be of the same scope as CoS. Then... Who knows?