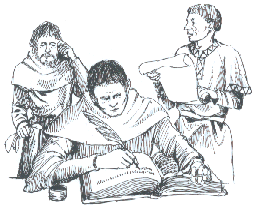 I have been thinking about this for a long time and think this might be a great time to launch this effort. I would like to launch a series of short fiction pieces set in Saggakar. These could be pretty much anything. During my many classes, I have found it fairly easy to come up with shorter stories than long ones and have been reading some really good ones.
Through this, I would like to meet new writing talent! This is your chance
Contest parameters
- All fiction should be original: written by you and not already published or submitted for publication elsewhere.
- The story must deal with themes of Saggakar: oppression, memory loss, slavery, redemption, and heroism against the odds.
- The story should be "traditional" fantasy (no sci-fi, no fanfic)
- Seven hundred to two thousand words for each submission
- An author can submit as many pieces of fiction as they want.
- All participants will be contacted shortly after the contest end.
- Submissions will be considered unedited drafts
- If your submission is not a winner, all rights will revert to you.
Prizes
- All participants will receive a unique Legacy Record granting them a unique bonus usable in the game.
- Winners will receive a copy of the final anthology and credit.
- Winners will receive a PDF copy of the Tyrants of Saggakar Player's Guide (5e or PFRPG).
- A grand prize winner will have their likeness (or someone of their choice) used for an NPC in an upcoming Tyrants of Saggakar product.



Does that seem fun? Pass the word, I'm thinking of running this for the month of March. (1-31st)
JP