Part 1 | Part 2 | Part 3 | Part 4 | Part 5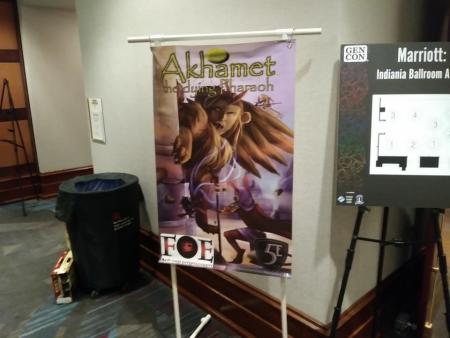 Conclusions
Good
- All four of my FOE GMs: Florence, Florent, Randy and Will made my work look - and play - awesome! A big thank you to each of them. My on-going elation and excitement about Gencon as a whole, I owe to these guys.
- A huge shout-out to the FOE players who bought tickets and spent their time with us. Many of them more than once! With so many choices at their disposal, this makes it even more special.
- I had most of my mods ready to hand out to my GMs, with only a few typos/corrections to do before giving them out.
- Running Slot zeroes for most of the adventures mitigated some of the panic regarding the special. This means next year, I will need to have all my adventures ready around Origins.
- Returning players from previous years and I'm not talking only of my friends like Derek and Steve, but people who played and returned. That really touched my heart and showed that we were doing something right and that I have a group of DM around me who are exciting and dynamic.
- I am a very lucky man for I know so many great people. In addition to my GMing crew and playuers, I got to meet (and I'll forget a lot of folks here) Josh-B who I haven't seen in years, Derek-M, Ken-W, and the rest of the Heroes of Rokugan.
- The FOE Polo Shirts really makes the GMs stand out.
Improvable
I searched for this one, before coming up with:
- Before Gencon, Double and triple check that each GM received, printed, and read their copies of the mods I need them to run.
- Do not do wait until the last minute to write an adventure.
- The blizzard of '19 will long be remembered. Bring long pants.
- Note to self: take pictures of the GM team.
Random
- ActionMan wants to attend. So I will have to find a way to get him to attend the con. He might have a part to play in the FOE special for next year...?
- When running a two-night special, have it be over two nights. Perhaps running what was the Origins special one night as a re-run.


No doubt, no hesitation. FOE is coming back to Gencon in 2020! With more new stuff.