I will post a Gencon After action report (like I do most of the time later). I think the biggest news of the weekend did NOT come out of Gencon (don't get me started with the Ennies), but out of this blog!
That's right!
I give myself myself the same power L'Empereur gave himself! I take the power!
Seriously, four big news hit the livewire on this blog during Gencon. Okay, before I got to Gencon really... These two news for which I am very excited (and I will link back to myself here - something I generally avoid doing when not posting a multi-part post.) These three announcements are quite exciting - for me for a number of reasons.
Kronea Setting Released
Another project I have been involved with is the creation of another setting for Pathfinder called "Kronea" published by Ophelia's Shop of Roleplay Specialties. As such, I spent many long evenings writing (I'll gripe, but I loved it) working on my offerings and giving a few bits of help and advice to fellow writers. I can't wait to see how their pieces turned out. To read the interview with Venus (aka Lady Ophelia), simply follow the following links: First to part 1 then to part 2. Venus is a great interviewee and you will learn a lot about her and about the project.
But really the most important and coolest thing is the release of the book itself, of which I am one of the writers! I wrote a piece of fiction regular readers have heard me talk about. I want to thank Derek and Guillaume again for their advice and feedback. Clicking on the image will bring you directly to DriveThru RPG.
Let us know what you thought of the overall product! I am always interested in getting feedback.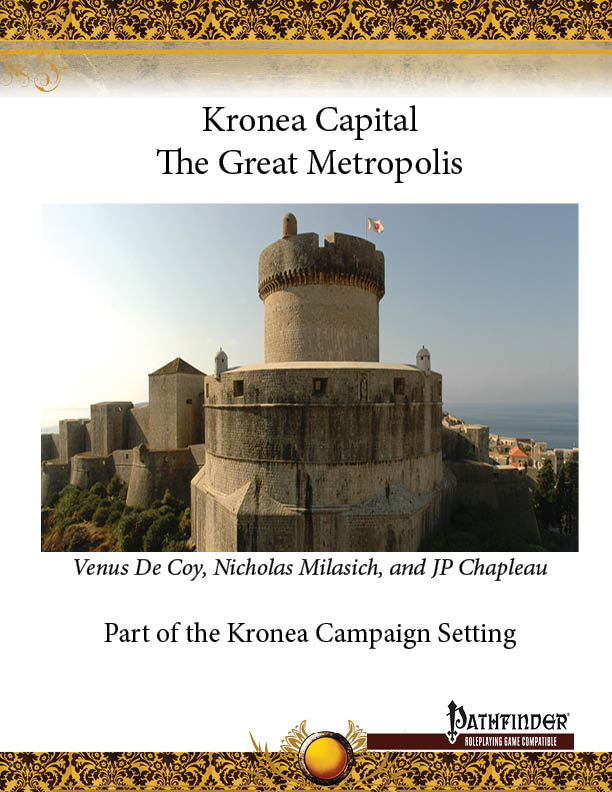 NeoExodus Legacies Launches Exodite program

NeoExodus Legacies is growing and reaching more and more people as a additional way for players to play a Pathfinder-based organized play campaign. The biggest thing about it is that players get to influence - through in-game choices - the future of the world and campaign. The Exodite program is a way for us to reach people in their home area through volunteers interested in getting some cool perks - and even getting a bit of say as to what happens. Exodite Program.
NeoExodus Legacies first online game organized

I won't post a link to this one, but I am planning on running a number of NeoExodus Legacies adventures on-line. Tonight, I will run the first one - a playtest for the upcoming "In sickness and in health" adventure. It is scheduled to premiere at Tacticon in just under two weeks.
Future adventures will be run on-line and our Exodites will get first chance to playtest and play the adventures. See? I did say "cool perks."
OMG! TWO WEEKS! GAAAAAAH!
I will be one of the guests at Tacticon in Denver
In case you did not know, I will be one of the guests at Tacticon this year! I'm very excited as it will be the first time I get the "official" title of guest. I'm pretty excited about it.
To all conventions-runners, I am willing to travel - and GM events.
JP